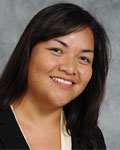 Melanie Mendiola
Project Director
Melanie Mendiola, a Guam native, was practically born into the local food scene. Her grandfather opened one of Guam's oldest restaurants – Kinney's Café – in the 1947 which survived into this decade. Her sister owned and operated a food store called Taro Hut, popular pit stop for college students from 2001-2008. As a result, she spent time as a server, delivery person, and general gopher during her high school and college summers.
She graduated in 2003 from New York University with a Bachelor of Arts in Economics and East Asian Studies and went on to work for in financial services – beginning as a corporate banking analyst at HSBC Bank in New York and most recently as a Retirement Planning Counselor for the Government of Guam – prior to joining Farm to Table Guam. She did a stint at an Americorps Vista volunteer for Pa'a Taotao Tano in 2009, a role that convinced her that she would one day return to non-profits, particularly in strengthening native communities.
Her volunteer activities include being President of the Board of Directors of the Guam Girl Scouts and the Immediate Past Chair of the Guam Young Professionals (Chamber of Commerce subcommittee). She obtained her MBA at the University of Guam in 2012 and is a doctoral student at Kansas State University.
Email Melanie at melanie@farmtotableguam.org