What is Community Supported Agriculture?
Watch our video to learn more!
One goal under project "Tånom, Fa'tinas, yan Sustånsia" is to develop and operate a Community Supported Agriculture Model Farm (CSA). The yield of the farm will be combined with the produce of other small farms and distributed via a subscription service with regular subscribers. Through the creation of the CSA farm, farmers can expect increased income and profitability, decreased waste, and ultimately more jobs in the way of expanding existing farms or new farmers entering the market.
Becoming a member of the CSA Subscription Service would be beneficial for those that:
Like to cook
Want to eat more healthfully
Don't have access to growing their own food
Want to know where their food comes from
Want to support their local farmers
How It Works
CSA is designed to promote farm-to-table eating, where members receive fresh, nutritious produce from the harvest of participating farms. Members will purchase a 'subscription' of harvest from the farm(s). Members do not decide what goes in the box, as it depends on the season. If the members are unsure how to cook certain items, Farm to Table Guam offers recipes, as well as nutritional value and storage tips on Pinterest.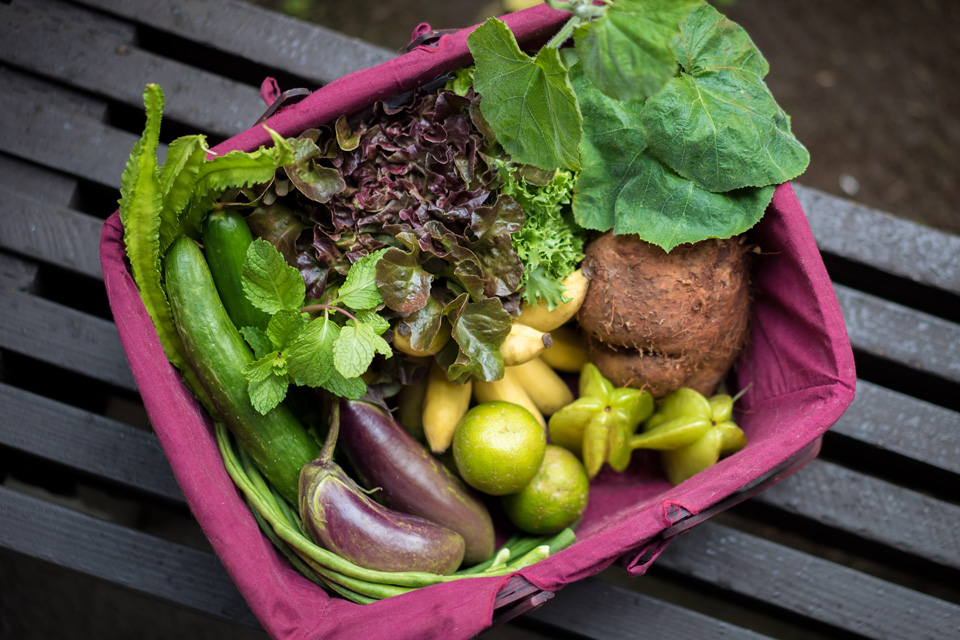 CSA Box Subscription Options
Small Share – $35 per box
Mostly greens and an occasional fruit – for salad, smoothies and/or juicing. 6-8 items
Weekly Pick-Up: $140/month
Weekly Delivery: $180/month
Every Other Week Pick-up: $70/month
Every Other Week Delivery: $90/month
Large Share – $50 per box
Assorted greens, vegetables, fruit, herbs and occasional eggs. 10+ items
Weekly Pick-Up: $200/month
Weekly Delivery: $240/month
Every Other Week Pick-Up: $100/month
Every Other Week Delivery: $120/month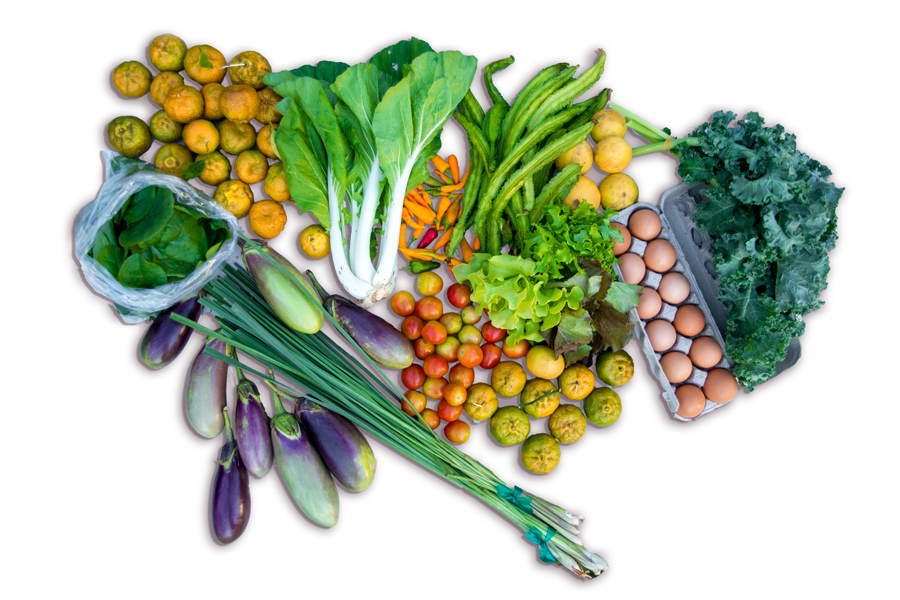 Please note: All applications must be submitted by 5:00 p.m. on Friday to begin your subscription the following week.
Pick-Up Locations
Pick-up takes place on Tuesdays at the following locations:
Agana – across post office next to Plaza de Espana from 4:00 p.m. to 6:30 p.m.
Tamuning – Pomika Sales from 4:00 p.m. – 6:00 p.m. (Contact us to choose this location)
Deliveries
Each subscription delivery purchase of $40 ($10 per week) includes four (4) weeks worth and takes place on Tuesdays from 2:00 p.m. – 7:00 p.m.
If ordering more than one box to be delivered to the same location, please contact our office at 671-689-8141 or info@farmtotableguam.org to register.
Please note: If residing on base, we will contact you directly to coordinate.
Special Offer
You will receive complementary delivery if ordering 4+ subscriptions to the same address. P​lease contact our office at 671-689-8141 or info@farmtotableguam.org to register.
When and Where Can I Register?
Those interested in becoming members are invited to submit applications, member agreement, and full payment. Credit and Debit cards will be accepted via PayPal. Application below.
Auto-Renewal
We require a minimum purchase of 30 days. You will be charged every 30 days until you cancel your recurring payments via PayPal.
To unsubscribe, click here. Please note, you must create a PayPal account to manage your subscription, although no account is needed to subscribe initially.
If you do not receive a cancellation confirmation within 24 hours, please contact us.
Application
Fill out the form below then pay securely with PayPal. *Indicates a required field.