Since basil is so easy to grow, needing part to full sun and water every day to every other day, you may have an abundance and no idea what to do with it all.  There are so many ways to use basil. It adds a rich and fresh aroma and taste to any dish.  Try one of these recipes below and discover which is your favorite!
Margherita Pizza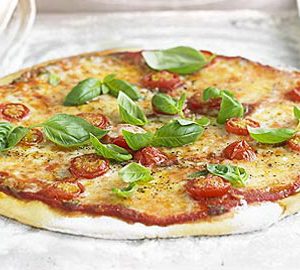 Base
300g strong bread flour
1 tsp instant yeast (from a sachet or a tub)
1 tsp salt
1 tbsp olive oil, plus extra for drizzling
Tomato Sauce
100ml passata
handful fresh basil or 1 tsp dried
1 garlic clove, crushed
Toppings
125g ball mozzarella, sliced
handful grated or shaved parmesan
handful cherry tomatoes, halved
handful basil leaves
Directions:
Base: Put the flour into a large bowl, then stir in the yeast and salt. Make a well, pour in 200ml warm water and the olive oil and bring together with a wooden spoon until you have a soft, fairly wet dough. Turn onto a lightly floured surface and knead for 5 mins until smooth. Cover with a tea towel and set aside. You can leave the dough to rise if you like, but it's not essential for a thin crust.
Sauce: Mix the passata, basil and crushed garlic together, then season to taste. Leave to stand at room temperature while you get on with shaping the base.
Dough: If you've let the dough rise, give it a quick knead, then split into two balls. On a floured surface, roll out the dough into large rounds, about 25cm across, using a rolling pin. The dough needs to be very thin as it will rise in the oven. Lift the rounds onto two floured baking sheets.
Top and Bake: Heat oven to 240C/fan 220C /gas 8. Put another baking sheet or an upturned baking tray in the oven on the top shelf. Smooth sauce over bases with the back of a spoon. Scatter with cheese and tomatoes, drizzle with olive oil and season. Put one pizza, still on its baking sheet, on top of the preheated sheet or tray. Bake for 8-10 mins until crisp. Serve with a little more olive oil, and basil leaves if using. Repeat step for remaining pizza.
Recipe and Photo Source: bbcgoodfood.com and Good Food magazine
Grilled Salmon with Garlic, Lemon, and Basil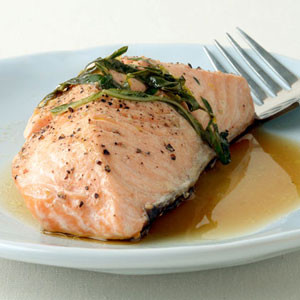 Ingredients:
Sauce
2 tablespoons chopped fresh basil
2 tablespoons fresh lemon juice
1 tablespoon extra virgin olive oil
1/2 teaspoon grated lemon rind
2 garlic cloves, minced
Salmon
Cooking spray
4 (6-ounce) salmon fillets
1/2 teaspoon kosher salt
1/4 teaspoon freshly ground black pepper
Directions:
To prepare sauce, combine first 5 ingredients in a small bowl; set aside.
To prepare fish, heat a nonstick grill pan over medium-high heat. Coat pan with cooking spray. Sprinkle fish evenly with salt and pepper; add fish to pan. Cover and grill 4 minutes on each side or until fish flakes easily when tested with a fork or until desired degree of doneness. Serve with sauce.
Recipe and Photo Source: yummly.com
Lemony Summer Pesto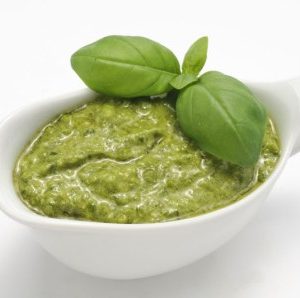 Ingredients:
2 cups whole fresh basil leaves (lightly packed)
1/3 cup whole raw pine nuts
1 large garlic clove, peeled
3 tbsp freshly grated Parmesan cheese
1 tsp zest plus juice of 1 lemon
1/4 cup extra virgin olive oil
1/2 tsp sea salt
1/4 tsp coarse black pepper
Directions:
Toast the pine nuts in a small saute pan over medium-low heat for about 5 minutes until fragrant. Let cool completely before adding to the food processor. While the pine nuts toast, place garlic clove in food processor and pulse about 10 times until it's finely chopped. Add the cooled pine nuts and rest of the ingredients except the olive oil to the food processor and pulse until all of the ingredients are finely chopped and incorporated (about 10-15 pulses). Turn the food processor (or blender) on and stream in the olive oil, blending until smooth (about 1 minute total).
*Serve on 100% whole grain crackers, bread or pasta. It's also delicious on fresh tomatoes, tomato and mozzarella salad, or added to marinara sauce.
Tips:
Watch the pine nuts closely, they'll burn quickly as they contain a lot of (healthy) fat.
Using 1 cup of fresh Italian flat-leaf parsley and 1 cup fresh basil will give a very similar pesto if basil is difficult to find or not in season.
Substituting walnuts for pine nuts also tastes great.
Use an organic lemon and wash it really well before you zest it. Store in an airtight glass container in the refrigerator up to 3 days.
Recipe Source: elizabethrider.com
Photo Source: grit.com
Thai Chicken Soup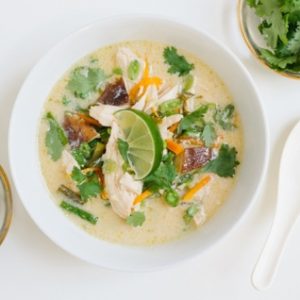 Ingredients:
2 tablespoons vegetable oil
1 bunch scallions, whites and pale-greens thinly sliced, dark greens sliced 1-inch thick
4 garlic cloves
1 1-inch piece ginger, peeled, finely chopped
1 large carrot, peeled, shredded
1 jalapeño, with seeds, thinly sliced (or seeded if you prefer less heat)
1 cup quartered stemmed shiitake mushrooms
1 pound skinless, boneless chicken breasts or thighs
1 quart low-sodium chicken broth
1 14-ounce can coconut milk
1 tablespoon (or more) fish sauce (such as nam pla or nuoc nam)
Kosher salt
2 cups thinly sliced sugar snap peas
1 teaspoon lime zest, divided
Fresh basil
Lime wedges (for serving)
Directions:
 Heat oil in a large heavy pot over medium-high heat. Cook scallions, garlic, and ginger, stirring frequently, until softened, about 4 minutes. Add carrot, jalapeño, and mushrooms and cook until softened, about 3 minutes. Add chicken, broth, coconut milk, and fish sauce. Bring to a boil, reduce heat, and cook until chicken is cooked through, 15–20 minutes. Transfer chicken to a plate and let cool slightly.
 Add fish sauce to soup and season with salt and more fish sauce, if desired. Shred chicken into large chunks and return to pot along with sugar snap peas. Stir in lime zest. Top with fresh herbs and serve with lime wedges alongside.
Recipe Source: bonappetit.com
Photo Source: Yossy Arefi
Clean Eating Grownup Grilled Cheese Sandwich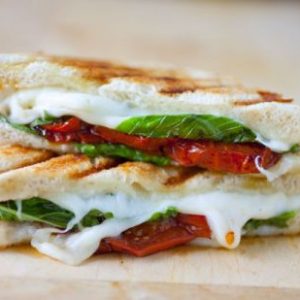 Ingredients:
2 slices clean bread
2-4 oz. (approximately) fresh mozzarella, sliced
Salt & Pepper
4-6 large leaves of fresh basil
2 (1/4 inch) tomato slices
Balsamic vinegar to taste
Directions:
Preheat oven to 350 F.
Assemble your sandwich in this order: Bread, cheese, salt & pepper, basil, tomato, bread.
Flip that sandwich over so that the cheese melts down over everything else.
Spray both sides of the sandwich with a light coating of oil using an oil sprayer. You can also spread a light coat of butter on before assembling the sandwich if that works for your eating plan.
Fold the sandwich into a piece of parchment, and then sandwich the entire thing between two cookie sheets. (I used 2 on top because my pans were tiny and I wanted a little more weigh on top.)
Recipe Source: thegraciouspantry.com
Photo Source: partial-ingredients.com
Sweet Basil Smoothie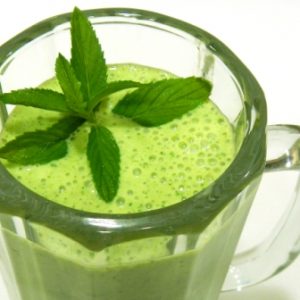 Ingredients:
Lemon Beverage Smoothie:
1 1/4 cups plain yogurt
1 cup packed fresh basil leaves
1 1/2 cups Lemon Simple Syrup, recipe follows
1 cup ice
Lemon Simple Syrup:
1 cup water
1 cup sugar
1 1/2 teaspoons lemon zest
Directions:
Lemon Simple Syrup:
In a small saucepan, combine the water, sugar, and lemon zest over medium heat. Bring to a boil, reduce the heat and simmer for 5 minutes, stirring occasionally, until the sugar has dissolved. Take the pan off the heat and allow the syrup to cool, about 20 minutes. Strain before using.
Smoothie:
In a blender, combine the yogurt, basil, Lemon Simple Syrup, and ice. Blend until smooth and frothy. Pour into frosted glasses and serve immediately
Recipe Source: foodnetwork.com
Photo Source: cookitquick.org
Mango Basil Smoothie

Ingredients:
3/4 cup frozen mango chunks
1/4 cup coconut water
6 large basil leaves
2 tsp ground flax seeds
Directions:
Blend all ingredients in a blender and garnish with a fresh basil sprig.
Recipe Source: kholistic.com 
Photo Source: hooperschallenge.wordpress.com
 Find out how to freeze basil!