What is Community Supported Agriculture?
Watch our video to learn more!
Community Supported Agriculture is a concept designed to connect the consumer directly with local growers. Consumers reserve the harvest from our Organic Model Farm and other small farms, gardens and backyards and will receive locally grown, seasonal produce on a weekly or bi-weekly basis.
Farmers can expect increased income and profitability, decreased waste, and ultimately more jobs in the way of expanding existing farms or new growers entering the market.
As a consumer, you can expect to:
know exactly where your food is coming from
the methods in which they are grown
become familiar with the islands seasonal tropical produce
receive specialty items that aren't commonly accessible
eat healthier
How It Works
Consumers will purchase a 'subscription' of harvest from the farm(s) and will receive a pre-assembled mixed bag of local produce. Contents depend on the season and availability. Bags are not customizable at this time, however you can list any special requests on the application.
Choose your size
Choose how often
Choose pick up or delivery
Fill out contact information
Submit payment
Farm to Table Guam offers recipes on Pinterest. For more recommendations, email info@farmtotableguam.org.
CSA Box Subscription Options
Shares include assorted leafy greens, vegetables, fruit, herbs and eggs.
There is no set amount of number of items or weight of each item. Each share will be provided with a variety of contents that match or exceed the retail value of the chosen share price. Some items are grown using organic methods.
SMALL SHARE – $35 PER BAG
Weekly Pick-Up: $140/month
Weekly Delivery: $180/month
Every Other Week Pick-up: $70/month
Every Other Week Delivery: $90/month
LARGE SHARE – $50 PER BAG
Weekly Pick-Up: $200/month
Weekly Delivery: $240/month
Every Other Week Pick-Up: $100/month
Every Other Week Delivery: $120/month
If you would like to purchase a one time share, please email us your request at info@farmtotableguam.org and provide the desired share size and whether or not this is a gift. An invoice will be sent to your email and you can pay via credit/debit card.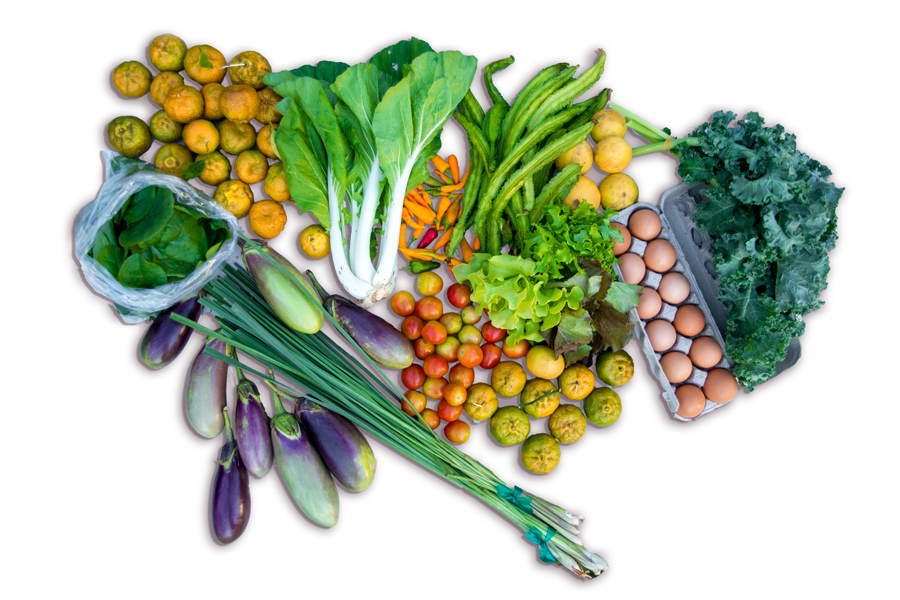 Pick-Up Times & Locations
Pick-up takes place every Tuesday at the following locations:
Hagatna: across the post office next to Plaza de Espana from 4:00 p.m. to 6:00 p.m.
Mangilao: Mayors Office (Community Center) from 2:00 p.m. – 4:00 p.m.

105 Commissioner Way, 10, Mangilao, 96913, Guam (across Santa Teresita Church)

Dededo: Ignite Juice Bar from 3:00 p.m. – 7:00 p.m.

135 Kayen Chando Sateena Mall (blue strip mall next to PayLess/Paradise Fitness)
Deliveries
Deliveries to your business or household take place every Tuesday between 1:00 p.m. – 6:00 p.m. There is an additional $10 fee per week.
If ordering more than one share to be delivered to the same location, the delivery fee will be waived in the form of a refund.
Please note: we currently do not offer base deliveries. We are, however, able to meet outside the gate.
Payment
You will be charged the same amount every 30 days until you cancel your recurring payments via PayPal. Please note, you must create a PayPal account to manage your subscription, although no account is needed to subscribe initially.
If you prefer to pay with cash or check, please email info@farmtotableguam.org.
If you do not receive a cancellation confirmation within 48 hours, please contact us.
Application
Fill out the form below then pay securely with PayPal. *Indicates a required field.
Please note, special requests are not guaranteed but we will try our best to accommodate special requests.