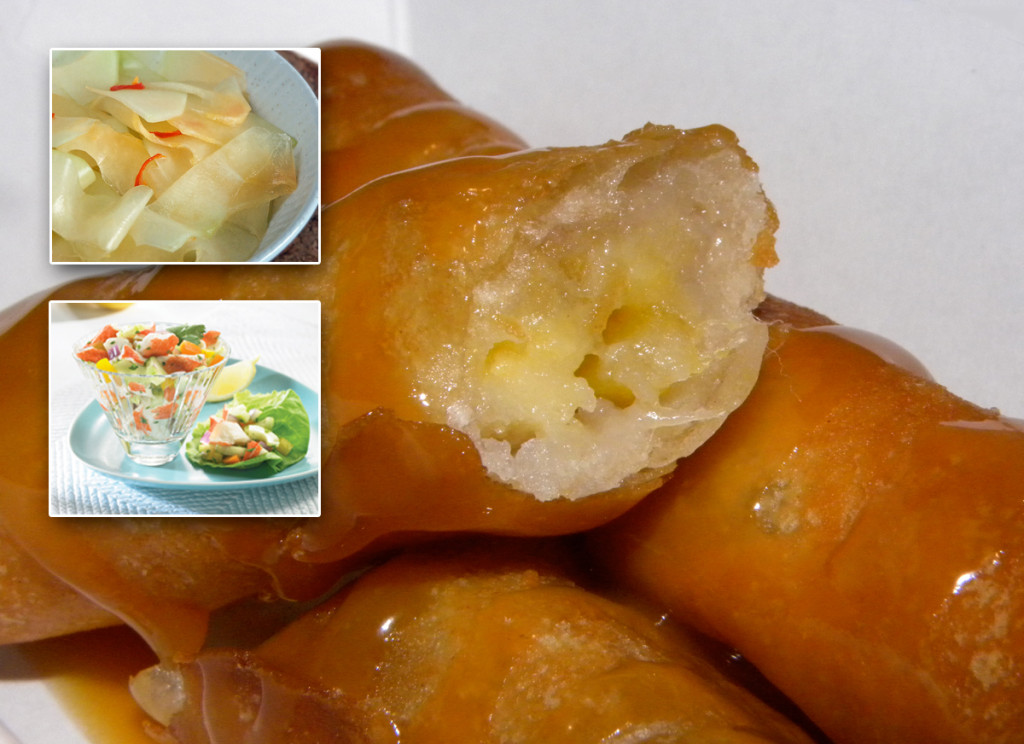 Provided courtesy of The Guam Guide
Story by Arlene Castro
Once again, we're culled the most popular local recipes, as well as Pacific-Asian dishes and desserts that can be created with fresh ingredients growing right in your backyard.
PAPAYA
Pickled Papaya
1 Large firm green/semi-green papaya
1 teaspoon Salt (to taste)
2/3 cup of white Vinegar
1 teaspoon Sugar
1 cup of distilled white water
Chopped red peppers
1. Peel papaya, cut in half and remove the seeds. Then slice the papaya into thin strips
2. In a bowl, sprinkle salt, sugar, and chopped red peppers over the papaya and mix together.
3. After allowing the flavors to marinate after 15 to 30 minutes, place the papaya in a sealable container.
4. Pour the vinegar and water into the container. Add water and vinegar and water until it flows over papaya.
5. Refrigerate overnight before serving.
Crab Cilantro Papaya, Mango, Avocado Star Fruit Salad
3 tablespoons of chopped cilantro
Pinch of salt
½ cup of calamansi or lime juice
1 16 oz. pkg. imitation crab sticks or flakes, chopped into cubes
1 medium ripe papaya, chopped into cubes
3-5 ripe local mangoes, chopped into cubes
3-5 light green star fruit, chop off edges
1 whole avocado, chopped into cubes
1. Place crab, papaya, mangoes, star fruit, and avocado into a bowl.
2. Sprinkle salt and 2 tablespoons of cilantro over the ingredients.
3. Pour lime juice over the ingredients
4. Gently fold the seasonings into the fruit and crab mixture.
5. Chill and before serving sprinkle remaining cilantro over salad.
GUAVA
Easy Guava Cake
1 (18 oz.) pkg. yellow cake mix or 1 (18 oz.) pkg strawberry cake mix
1 1/3 cup of guava juice
3 eggs
1/3 cup vegetable oil
1 tsp vanilla
1 (8 oz.) container of Cool Whip, thawed
1 (8oz.) pkg. cream cheese, softened
1/3 cup sugar
2 cups guava juice
½ cup sugar
¼ cup cornstarch
1 small pkg. sliced almonds
1. Grease and flour round cake pans. Bake according to cake mix package directions, substituting guava juice for the water.
2. In a medium mixing bowl, beat cream cheese with hand mixer until fluffy.
3. Add sugar and vanilla and beat inches, and slowly fold in the Cool Whip and refrigerate until ready to use.
4. In amedium sauce pan, bring the 2 cups guava and sugar to a boil.
5. Make the paste out of the cornstarch with a small amount of water. Remove guava juice from heat and stir in the cornstarch mixture. Return to heat and bring back to a boil and let it boil for one minute. Cool in refrigerator.
To assemble cooled cake
Thickly ice the cake with all of the cream cheese mixture. Glaze the top of the cake with cooled guava gel.
Sprinkle at bottom of cake sliced almonds. Refrigerate until ready to serve.
Recipe via Chamorrita Momma on Food.com
Spiced Guava Slices
4 White or Pink Guava fruits
Tabasco
Salt
1. Slice guava and arrange flat in a pattern on a plate.
2. In a small bowl pour in 2 tsp. of salt and 2-3 drops of Tabasco and stir.
3. Take a pinch of Tabasco/salt mixture and sprinkle on top of each guava slice.
SABA BANANA
Fried Banana Lumpia (Turon)
1 frozen pkg. of lumpia wrappers, thawed
1 bunch ripe saba bananas, sliced lengthwise in halves
1 cup brown sugar
1 egg, scrambled in a small dipping bowl
4 cups cooking oil for frying
1. Separate lumpia wrappers and place on a plate and cover with a damp cloth to keep edges moist
2. Coat sliced bananas with brown sugar and set aside on a tray or plate
3. On a flat surface such as a cutting board, place one lumpia wrapper.
4. Place banana on the lumpia wrapper closest to your side. Snugly roll the wrapper over the banana, and on the halfway mark fold in the edges at the ends of the banana.
5. To seal the wrapper take a fork and dip into the egg wash and spread over the inner side of the edges of the wrapper and complete the roll.
6. Place in rows in a Ziploc sealable bag, or tray covered by wax paper, if storing in the freezer.
7. Pour oil in a frying pan or deep fryer in medium/high heat
8. Gently drop the lumpia into hot oil, and turn over the lumpia when it is golden brown
9. When both sides are light golden brown, remove lumpia and place into a strainer to drain out excess oil.
10. Cover lumpia with a paper towel after it has cooled off to keep it from becoming soggy.