By Rita Salisbury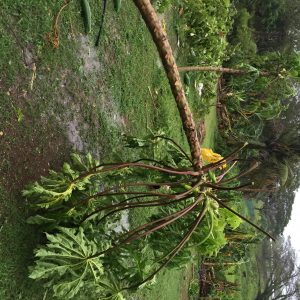 In the aftermath of Typhoon Dolphin, several of Guam's farmers have reported losses to their crops. Those in the northern region of Guam were especially hit hard by strong winds and heavy rain fall. Fortunately, the USDA Farm Services Agency has published a release (0144.15) to remind farmers about maintaining, or applying for, eligibility in the Crop Insurance Premium Support program, by June 1, 2015. 
Participation in "most USDA programs, including marketing assistance loans, farm storage facility loans, and disaster assistance" requires farmer certification via the Highly Erodible Land Conservation and Wetland Conservation Certification form (AD-1026). However, even those farmers "who only participate in the federal crop insurance program" are now required to obtain certification, via AD-1026.
According to Agriculture Secretary Tom Vilsack, "We've deployed a variety of informational documents and online resources including fact sheets, frequently asked questions and brochures to help farmers understand what they need to do…We want to make sure that those who are required to act do so by the June 1 deadline. We want all eligible producers to be able to maintain their ability to protect their operations with affordable crop insurance."
Farm to Table-Guam Corp. encourages all farmers to take advantage of this and any support opportunity available through the USDA FSA. Be prepared for the next natural "challenge": be sure to contact your local USDA FSA office, even if the June 1st deadline has passed.
GUAM FARM SERVICE AGENCY
770 EAST SUNSET BLVD., STE 260
BARRIGADA, GU 96913
(671) 472-7568

Source: http://www.fsa.usda.gov