Roasted Pumpkin Seeds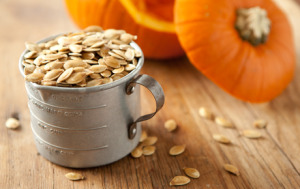 Ingredients
LOCAL pumpkin seeds
1 1/2 tsp. extra virgin olive oil
salt (or spices of your choice)
Instructions
 Preheat oven to 350°.
Clean seeds and pat dry.
Lay seeds across baking sheet. Drizzle olive oil over seeds, sprinkle salt on top, then mix.
Bake for 10 minutes. Mix seeds around and bake for 5-10 minutes longer.'
*Eat as a snack or topping for salads. If you have extra time, try this recipe.
Pumpkin Chili with Black Beans and Garbanzo Beans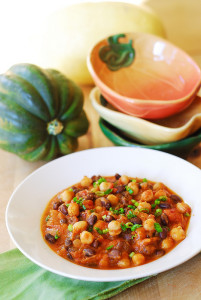 Total time: 40 minutes
*makes 4 lunch-size servings
Ingredients
1 tablespoon 

olive oil

1 large onion, chopped
4 

garlic cloves, minced

1 cup LOCAL pumpkin puree
1 cup LOCAL tomatoes
1 cup vegetable stock or water
1 can black beans (15 oz, 425 g)
1/2 can garbanzo beans (7.5 oz, 212 g) or white beans
1 tablespoon cumin powder (start with half the amount, and add more, to taste)
2 tablespoons chili powder (start with 1 tablespoon, reduce or add more, depending on your tastes and also on how spicy your chili powder is)
salt and pepper
Instructions
In a large pot or skillet, cook chopped onion and minced garlic in olive oil for about 5 minutes on medium heat until soft.
Add pumpkin, canned tomatoes (chop them up into smaller chunks), vegetable stock (or water), black beans and garbanzo beans. Add half the cumin and half the chili powder, stir everything well, and season with salt and pepper. Taste your chili, season some more with salt and pepper if needed. Add the remaining cumin (or more) and remaining chili powder (or more), if desired. Bring to boil, make sure to stir all ingredients well together to combine flavors and spices. Reduce to simmer and cook for 20 minutes on simmer.
Serve in soup bowls, garnished with chopped green onion.
Recipe and photo source: juliasalbum.com and graciouspantry.com
Pumpkin Coconut Soup with Caramelized Pecans
Ingredients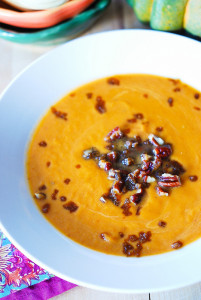 Pumpkin Soup:
2 cups LOCAL pumpkin puree
2 cups water
1/3 to 1/2 cup coconut milk
1 tsp (up to 2) red curry paste
3-4 TBLS LOCAL honey
1/4 tsp or more cumin
salt
Caramelized Pecans:
1/2 cup pecans
1 TBSP butter
1 TBSP brown sugar
Instructions
In a large saucepan, combine pumpkin, water, and coconut milk on medium heat, and stir to combine. Add 1/2 teaspoon of red curry paste, stir to combine. Add honey. Add 1/4 teaspoon of cumin to the soup and season the soup with salt to achieve the desired saltiness. This step is very important: the soup should be generously seasoned with salt which will help bring out the rest of the flavors together.
Once you seasoned the soup with salt, you may add more red curry paste if desired, using 1/2 teaspoon. Using more or less of red curry paste will depend on several factors. First, depending on the brand, some ready curry pastes are spicier than other so you have to be careful not to make the soup spicier than you want. Second, you might want your soup to be on the spicier side or you may want it to be milder. However, I would not recommend adding more than 2 teaspoons of red curry paste, no matter what brand. This way, Thai flavor is not overwhelming: it just nicely balances with the pumpkin flavor.
To caramelize pecans: add butter and sugar to the frying pan on medium-high heat, add pecans. Cook for about 5 minutes, stirring, to coat the pecans until they caramelize. Place pecans on foil and let them cool. Chop them up and sprinkle over each serving of warm pumpkin soup.
Recipe and photo source: juliasalbum.com and graciouspantry.com
 Pumpkin Pancakes with Spiced Apple Topping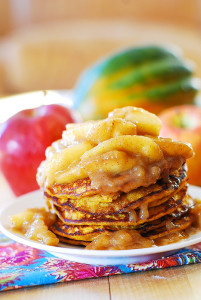 Ingredients
1 cup LOCAL pumpkin
1 and 1/4 cup milk
3 tablespoons melted butter
1 LOCAL egg
3 tablespoons brown sugar
1 and 1/4 cups all-purpose flour (or substitute of your choice)
1 and 1/2 teaspoon baking powder
3/4 teaspoon (up to 1 teaspoon) cinnamon
1/4 teaspoon ginger
1/8 teaspoon nutmeg
Instructions
In a large bowl, combine pumpkin, milk, melted butter, egg, and brown sugar. Whisk until well combined, and the mixture is of even consistency.
In a separate bowl, combine dry ingredients: flour, baking powder, cinnamon, ginger, nutmeg – mix well to combine.
Add dry ingredients to wet ingredients and whisk until just combined.
Heat up a griddle to medium heat, grease lightly if necessary. Use 1/4 measuring cup to ladle each pancake on the griddle. Cook until golden brown, flip to the other side, and cook until golden brown on the other side.
Prepare sweet and spiced cooked apples according to the recipe. Place 2 or 3 pancakes on each serving plate and top with delicious sweet cooked apples.
Recipe and photo source: juliasalbum.com